Events
In 2022, There was music at the market!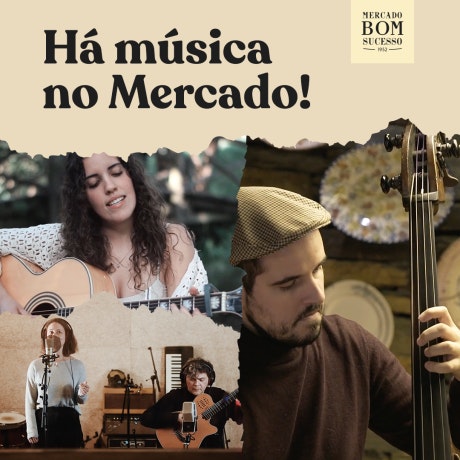 There is music at the Market!
After the success of live music moments in 2021, "There is music at the Market!" returned in 2022 and those months were full of animation, musical diversity and, above all, a lot of talent!
We received artists who were already in the house and discovered new talents:
March
01.03 Dona Elvira
10.03 Denize Machado – Duet Avelã
16.03 Saint Dominic's Gospel Choir
25.03 Fatucha Milk
31.03 Jazz Trio
April
05.04 Marina Prado
14.04 Andor Violet
19.04 André Ramos
May
04.05 Carnation and Cinnamon – Trio
10.05 Sophia Tavares
19.05 Duo Jazz – Rui Teixeira & José Carlos Barbosa
June
02.06 The Cover Van Duo
10.06 Voice N' Bass
14.06 Louise Hug
22.06 Bruno Pato
30.06 Walk in trio
July
07.07 Pop up Portable Voices
13.07 Modified Samba Trio
19.07 DJ Danny Tape
27.07 Debora Papa
September
06.09 Paulo Melo & viola Ottomari
10.09 Miriam Nunes in Trio
20.09 DJ Danny Tape & Violinist NOA
27.09 Little Wings Duo
October
03.10 Pedro Barosa in Duo
11.10 Luisa de Carvalho Quartet
18.10 DJ Emanuel NOA
26.10 TRIP Cool Jazz – Trio
November
03.11 Peaky Soul Trio
09.11 Mister Quartet
16.11 Jazz Trio Quartet
December
08.12 Street Gospel Choir
12.12 Choir of students from the Silva Monteiro School of Music
20.12 Tin Soldiers
Mark the concerts you can't miss in 2023 on your agenda now and gather your friends in an atmosphere of conviviality, animation, good snacks and lots of music!
Publication
29 March 2023